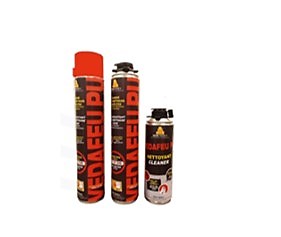 Details
VEDAFEU PU is a fire resistant polyurethane foam which guarantees optimal acoustic and thermal insulation. It adheres to most building materials such as wood, concrete, brick, metal, but not to polyethylene, silicone or PTFE.
Use 
It is used as any expanding foam in the building industry when fire resistance is required like : thermal and acoustic insulation, linear joint sealing, cavity filling…
Composing
Polyurethane foam
Finishes and special pieces
The composition of "VEDAFEU P © plates", as well as their implementation, are the subject of patent applications
Have questions?  We are here to help you!