Details
Masonry Support / Brick Support
The lining of bricks, blocks or stones in steel or concrete structures is usually supported by stainless steel masonry support systems.
The type of structure, differential movement, type of coating, masonry load and cavity width need to be considered when selecting the most suitable fixing solution.
CE Marking
Construction products that fall within the scope of a harmonized European standard must now bear the CE marking under the Construction Products Regulation.
For masonry support systems, the harmonized standard is BS EN 1090-1 Execution of steel structures and aluminum structures: Requirements for conformity assessment of structural components. Our system complies with all CE marking requirements of this Standard, including designs in accordance with EN 1993 (Eurocode 3) and external certification of our factory production controls by an approved body.
The maximum size of a masonry panel must be restricted to limit the effects of differential movement. This is particularly important if clay masonry is used with concrete blocks and a concrete structure. To allow vertical movement of about 1 mm per meter, in buildings with more than four floors or 12 meters in height, the movement joints are usually positioned on each floor or on each second floor.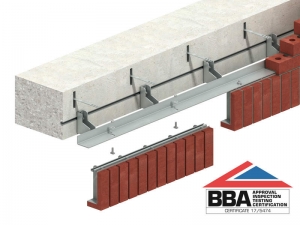 Nexus® suspended masonry system
Creating revelations and soffits with a brick face is much simpler and faster with the Nexus® suspended masonry system.
The Nexus® system combines a specially developed Ibstock-Kevington light brick clad steel unit with Ancon's tested MDC stainless steel angular support system. The system offers contractors easier handling, along with maximum adjustment, both vertically and horizontally.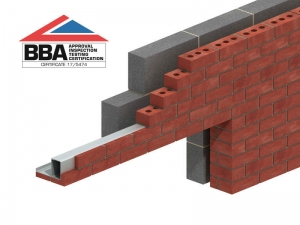 Lintels coated with Nexus® bricks
Brick-lined lintels are designed to transport a single sheet from a cavity wall.
Prefabricated in stainless steel to offer maximum protection against corrosion, they offer a quick and simple way to create deep soffits above window and door openings. They are ideal where speed matters – permanently bonded brick sliding coverings, applied off-site, are manufactured from the same batch as the main masonry, providing a perfect blend without compromising on quality or appearance. The lightweight design means that the lintels can simply be lifted by hand, without the need for mechanical lifting equipment, saving time on site.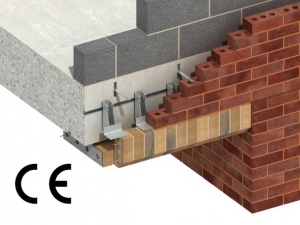 Individual supports
Like the MDC continuous angle support system, the Ancon MDA Individual Support Support System is designed and manufactured to meet the specific cavity width and masonry load of an application.
The supports in the 225 mm centers will transport 8 meters of masonry. They can also be used in 450 mm centers to support concrete blocks.
The system comprises individual supports positioned on each perpend, screwed back to the structural structure.
Have questions?  We are here to help you!