Details
Fixings for masonry walls are an essential element for the stability of masonry panels. Cortartec fixings are produced in a wide range of lengths and are applied to different types of solutions, both for bricks or concrete blocks and others. The Staifix range of ties includes solutions for all types of masonry construction, from traditional masonry, mixed wood and metal structures.
They can be designed and manufactured to support modular units made of brick, where the brick blocks are adhered to prefabricated steel or cement structures (grout).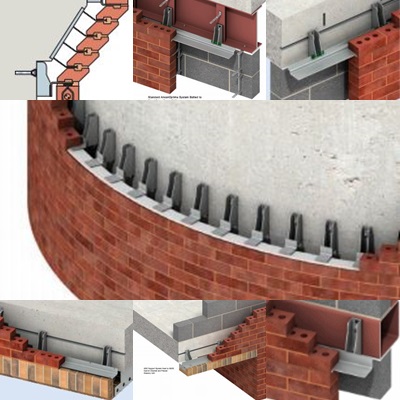 Benefits of standard systems
More adjustable than welded support systems
Specified using simple load / cavity charts
No need for detailed layout drawings
Supplied from stock
Faster to install
Easier to move around the site
Unused items can be used in the next project or replenished
Tolerances
It is important to select the correct support system to ensure that construction tolerances can be accommodated. Adjustment will be necessary on all three planes. The Cortartec brackets have a groove on the back to provide vertical adjustment. A serrated surface prevents any slipping. Longitudinal adjustment is provided by a cast ancon channel. The anconoptimistic system has a fixation zone that provides a total of 50mm of horizontal adjustment allowing the system to be fixed in pre-drilled holes instead of steel slits and eliminates clashes with cement reinforcement bars. Subject to the type of fixation used, Cortartec supports can be changed in place to suit variations in the structural edge beam. Other systems accommodate such variations by adding shims between the system and the structure, or by increasing the masonry bearing. The maximum thickness of the shims must not exceed the outside diameter of the fixation or 16mm, whichever is less. Cortartec anconOptima is different from welded systems, the supports and angles are supplied as separate components, this provides greater flexibility in the final position for fixing the supports and makes the system easier to handle on site. Standard systems are available for non-standard masonry loads of up to 14kN / m. The MDC support system with stirrups, the support systems for this system are in cavities from 60mm to 150mm in 5mm increments. They can be changed in place to allow cavity variations.
MDC systems have welded supports and are designed to meet specific applications. They are available in various configurations and are ideal for supporting masonry with special features. The material content is optimized to ensure that the most economical solution is made.
Have questions?  We are here to help you!